Healthy High Protein Low Carb Recipes
High protein and low carbs foods are all in nowadays. Different sites are promoting this concept. These high protein low carb recipes are used especially for you dieters.
Variations are made in food types. The amount of protein and carbs differ in almost all recipes. A high protein recipe should consist of about 56 gms per day for men and about 46 gms for women. Which can be acquired from meat, fish, chicken, pork etc. Whereas 120 gms of protein should be taken for weight loss diets. Whereas a low carb recipe is sugar-free, gluten-free yet tastes good.
It's a tough job finding and preparing high protein low carb recipes for yourself and your family. Looking for a good recipe can be exhausting and time-consuming. Whether you are on a low carb diet or trying to load some extra protein for a hard busy day. I have put up some recipes that are delicious and easy to prepare. Some of these recipes have a doubled dose of protein.
The recipes are not all meat and beans but also contain grains and vegetables.
25 Best High Protein Low Carb Recipes:
(1) Beans with Bacon and Chives:
Take a can of cannellini beans toss them with apple cider vinegar, olive oil, whole grain mustard and a little bit of salt and pepper. You can preserve this batter for 8 hours. Add in the crispy bacon and chives just before you eat to get the crunchy flavor. This recipe will give you a rich protein lunch.
(2) Steak with Skillet Tomatoes and Sauteed Green Beans:
This lovely dinner recipe can be cooked on a stove or even outdoor grilled. Just grill the meat. Add blistered tomatoes sautéed with oregano leaves and boiled green beans in a skillet with finely cut garlic and grilled steaks. Stir fry and enjoy a lovely outdoor dinner.
(3) Spanish Omelette with Potatoes and Chorizo:
This can be a healthy breakfast just for you. With the red potatoes and manchego cheese and spicy chorizo sausages, you can make a good recipe for breakfast. You can also add a green or red bell pepper. Or a zucchini as well.
(4) Classic Slow-Cooker Corned Beef with Cabbage:
This is one of the best slow cooker dishes where you can just throw in all the ingredients into your pot. And let it cook for 6-8 hours. And lo! Your dish is ready. So throw in the corned beef, cabbage and red potatoes, thyme and caraway seeds for the intense flavor. Let it cook in the slow cooker and the whole meal is ready.
(5) Shrimps and Fennel Risotto:
To prepare this high protein low carb recipes you need to melt a little butter sautéing a fennel bulb and an onion. Add in Cooked Arborio rice and shrimps slow in chicken broth and white wine. Lastly, add in some grated parmesan cheese. And enjoy a cheesy pasta bowl with a lean protein.
(6) Chicken with Goat Cheese Vinaigrette:
As your pasta is cooking Brown the skinless chicken with vinaigrette. Now prepare a dressing with olive oil, fresh parsley, red crushed pepper and goat cheese. Mix all together. Add some garbanzo for more proteins. The dish is ready in 20 mins.
(7) Chicken and Quinoa Burritos:
This super but simple recipe gives a triple punch of protein. Rotisserie chicken, black beans, and quinoa. It gives 9 gms of protein per cup. It's the only plant based food or seeds that contain all 9 amino acid. That is why its a complete protein meal. Load a tortilla with this cooked chicken, quinoa, and beans sided by grated Monterey Jack cheese, cilantro, Greek yogurt, and avocado.
(8) Seared Salmon with Israeli Couscous Salad:
Salmon provides good lean protein. Sear the salmon on a grill stove. Serving with a cool salad of crisp cucumber and fresh fennel. A good combination of protein, grain, and vegetable.
(9) Slow Cooker Squash Lasagna:
A meatless lasagna with mozzarella and ricotta cheese. Pureed squash and baby spinach. No oven needed a just layer with lasagna strips and cook on low heat strips are tender. Serve with pasta and green salad.
(10) Chipotle Beef and Beer Chilli:
Use ground beef chuck, kidney beans, and red chili. Just sauté some onions, brown the meat and the flavors, peeled tomatoes, and beans. Chipotle in adobo sauce. And a bottle of dark Mexican beer keeps the stew moist.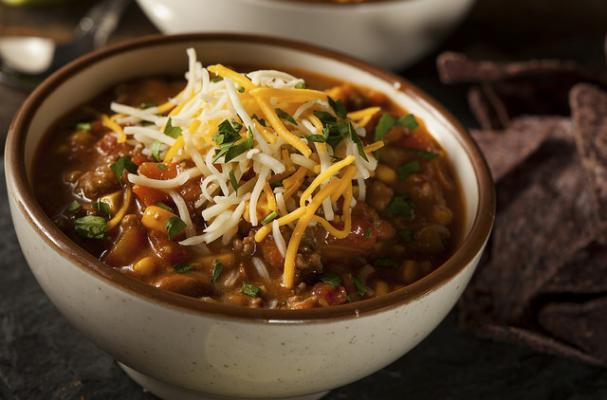 (11) Spiced Meatball and Swiss Chard Stew:
A quest to attain more proteins Leads to Italian meals. Try out this recipe for high protein and low carb. Make lean meatballs spiced with garlic, paprika, and cumin. Serve them in a soup of chicken broth, Swiss chard, and orzo. This pasta looks like large grains of rice. Topping with yogurt at every server makes middle eastern meat in a bowl.
(12) Beef, Bacon, Egg Burger:
Nothing much to do here to get your protein boost. Take a bun put a ground beef chuck and some chopped bacon grilled freshly under it. Making it a patty. Add sliced tomato and fried egg over it. Enjoy the burger.
(13) Poached Bass over Frisee:
A white fish gives a mild flavor and a buttery texture when cooked this way. For the poaching liquid add a slice of shallot, fresh thyme, fresh parsley, and mustard seeds. A green crunchy salad in white wine vinaigrette and toasted bread at the side makes a hearty meal.
(14) Pesto Pasta with Beans and Potatoes:
This pasta plate can make everyone crazy. Firstly boil the potatoes and green beans together. Cook the pasta. Cut the boiled veggies. Toss in all together. Season with parmesan and pine nuts. Perfect for the summers.
(15) Roasted Curry Salmon with Tomatoes:
Toss some grape tomatoes in olive oil, salt, and pepper. Spread them on a baking sheet. Nestle the salmon in the same pot. And keep on the baking sheet along with the former ingredients. Bake at 400 degrees. Till properly roasted. Serve fillets over rice and top with the blistered tomatoes and fresh basil leaves.
(16) Lentils and Kielbasa Stew:
This stew is made with smoky sausage, green lentils, and veggies like celery, carrots, and onions. Sauté the vegetables in a large pot then add the kielbasa and lentils mix in the liquids. Stir occasionally and let simmer. Stew is ready. This stew provides you with extra protein and low on carb and calories.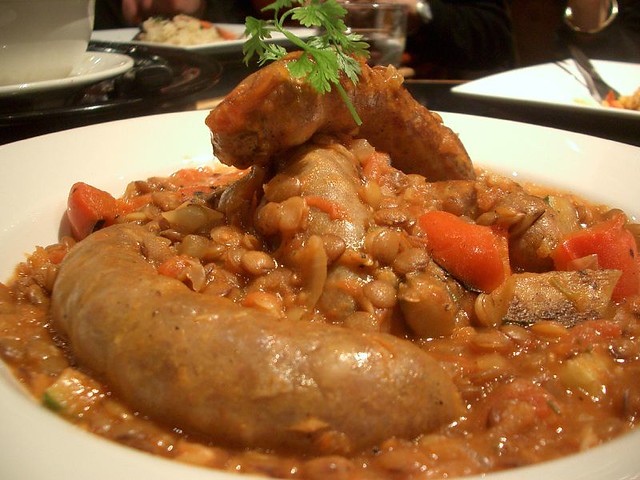 (17) Slow Cooker Pepperoni and Chicken:
Put the chicken in a slow cooker sprinkle salt and pepper to taste. In another bowl add chicken broth, red chili flakes, Italian seasoning and tomato paste. Then add this mixture to the chicken in the slow cooker. Lastly, add the pepperoni and olives. Let it cook for 3-6 hrs till the chicken can be shredded. At this stage, your recipe is done. This recipe will give you 52 g of protein and only 2g of fat.
(18) Philly Cheesesteak Stuffed peppers:
This cheesesteak peppers recipe is easy to make. Just take an 11×7 inches baking tray, grease it and set it aside. Half the peppers lengthwise removing ribs and seeds. Boil them for 2-4 minutes till the skin softens. remove carefully dry on paper towels. Now for the filling add a little olive oil in a skillet when hot add garlic, onions, red bell pepper, mushroom with salt and pepper to taste. Sauté till onions and peppers are soft. Add the sliced steak then Worcestershire sauce. Cook for 3-4 minutes. Put opened peppers on the baking tray. Stuff one half with flank cheese and the other with the steak mixture. Close and top all peppers with the remaining cheese. Bake in a preheated oven at 400 degrees for 10 mins, till the cheese, melts.
(19) Feta Stuffed Chicken:
This easy high protein low carb recipe contains 208 calories per serving. Pound chicken breast to ¼ inch thick. Season with salt and pepper on both sides. Heat oil in a saucepan adds in the spinach, garlic, and basil. Cook till spinach is cooked about 8 mins. Remove from heat and add the feta cheese. Stir. Now take each breast piece spread the spinach mixture evenly roll up and secure with toothpicks on both ends. Now again heat the saucepan add the chicken broth, lemon juice, butter, and another seasoning. Cook to make a batter and drop it over the breast roll. Bake For 30-35 minutes. It contains 27 gms of protein and 4 gms of a carb.
(20) Skinny Lemon Tilapia:
Preheat oven to 425 degrees. Grease a baking tray lined with foil. Season the fish fillet with salt and pepper to taste. Sprinkle lemon peel on each side evenly. Lastly sprinkled dill on each fillet side. Bake for 14-16 minutes until the fish is opaque and flesh is flaky. Check with a fork. For the sauce soften some cream cheese in the microwave stir in some lemon juice, remaining chopped dill and lemon zest. Pour the sauce over freshly baked fish and serve. It gives a good 35 gms of protein and 1gm of a carb.
(21) Southern Hasselback:
A protein friendly dish with 28g of protein and a low 9g carb. Preheat oven to 400 degrees f. Heat oil in a skillet adds garlic, bell pepper, and onions. Cook till they soften. Then add in the green chilies and move the skillet from the stove. While the skillet cools prepare the stuffing. Slit 6-7 diagonal slits on the fillets carefully not going through. Salt and pepper on both sides and fill the slits with the vegetable mixture. Season the stuffed chicken with cumin and chili powder. Lastly, top it with 2Tbsp cheese. And bake for 20 to 22 mins till done. Garnish with sour cream and cilantro. Sided by the lime wedge.
(22) Mexican Ranch Burgers:
An easy and quick recipe filled with 32 gms of protein. In a big bowl add the ground beef, ranch packet, cumin, chili powder and adobo sauce. Make equal size patties.
(23) Wild Herb Chicken Fillet:
An easy and quick recipe that is made with chicken marinated with herb sauce to make a perfect blend. Cook on low heat.
(24) Grilled Chicken with Peanuts and Avocado:
Chicken fillet is grilled with olive oil along with avocado to make the best high protein low carb recipe. Grill it on a grill pan with less oil to get better results.
(25) Honey Glazed Wedges with Lime:
Honey is used best to lose weight and when mixed with lime makes the best recipe.
Conclusion:
There are a lot of recipes that are high protein low carb recipes that are healthy and should be eaten on a regular basis to maintain a healthy body.